WHATS NEW
---
2022 Las Vegas Reunion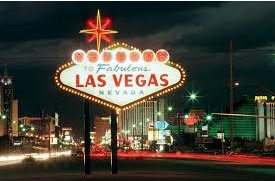 ---
New Koh Tang Vets Hat!
These hats are fully embrodered in Yuma, AZ and are very comfortable
Available now in the Kohtang Store


---
Calling All Koh Tang Vets!
"Hello, my name is Michael Hunter, an Iraq veteran and student historian. I am interested in interviewing veterans of the Mayaguez Incident and Battle of Koh Tang (from those who were on the island, offshore, in the air, or supported the operation from afar) to better understand how the events of May 12-15, 1975, were connected to the war in Vietnam. I'd like to hear your story and how you connected those events in your mind at the time (if you did) and in the years after. If you're interested in telling your story, please email me at mh1747@georgetown.edu. Your interviews will be a part of a historical article that I am writing, and if you're okay with it, I'd like to send your interviews to the Library of Congress' Veterans History Project (https://www.loc.gov/vets/) so future generations can learn from you. I am located in the Washington, DC, area, if you live within an hour or two, I'd love to interview you in person. Otherwise, I'd like to do a phone interview. I'll be ready to start interviews the first week of October. Thanks for your service and I look forward to learning more about you, Sincerely, Michael Hunter (Major, US Army)"
---
Check out the new Lt Col. James Davis
USMC Film Depository
Click Here
---
| | |
| --- | --- |
| | Here is the Latest newsletter that will be mailed about the first part of June 2017. It has the latest 2018 reunion information plus much more. Thanks Tina! |
| | |
---
Check out the new message on the President's Page
---
Jim Butler, Lithographer aboard the USS Coral Sea recently contacted Don Raatz with some incendiary information. Seems he was tasked with printing 10,000 leaflets ostensibly to be dropped on Koh Tang Island requesting the return of our dead and missing. Unfortunately, an order was given at some point prior to their delivery to destroy the already printed leaflets as well as the plates used to print them. Fortunately, he withheld 4 of them "for posterity". He also provided a translation. Don is in the process of verifying its content independently. This is not the first time of hearing about this but in the past it was just a rumor. This development demands us to at least attempt to discover who ordered their printing in the first place, and more importantly who ordered their destruction.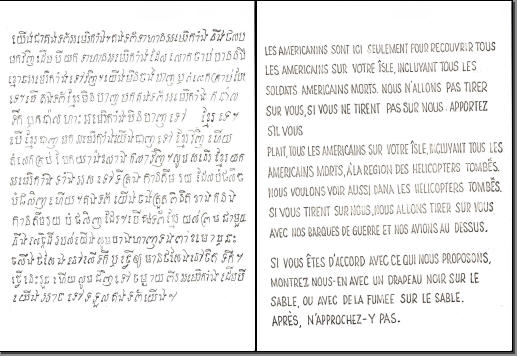 ---
Terry Brooks Truck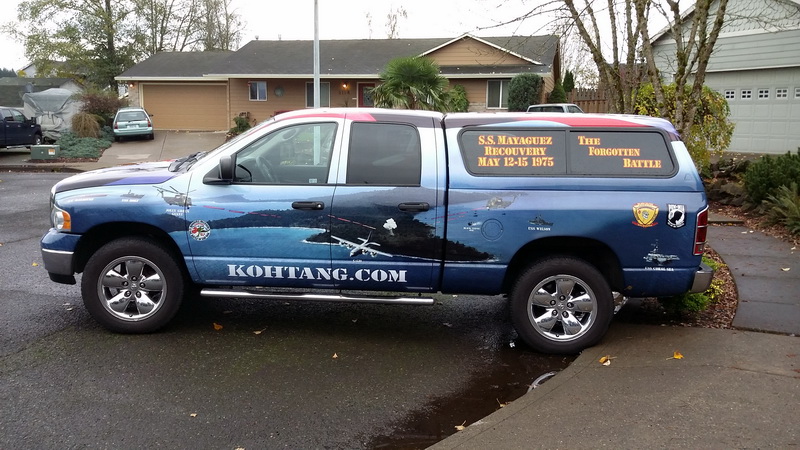 Terry's Kohtang truck was donated to the National Museum of Military Vehicles located in Dubois WY . The Ceramony was on May 15th, 2021.
Click here to see the other truck pictures
---
KaBOOOOOOOOMmmmm w/Blue-82
At our last reunion Navy E-5 Tom Rieter mentioned that he was on deck of the USS Wilson with a movie camera when a plane dropped something with a parachute and it ended up being a bomb we know as the Blue 82, Daisy Cutter. The largest non-nuclear bomb in the US arsenal. This along with some actual combat video which includes the Wilson's Captain gig footage, HH-53, OV-10 and more. Thanks Tom for these great shots!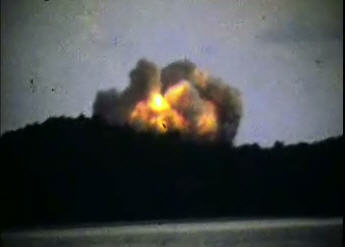 <<<click on picture to watch video!
---
CHECK THIS OUT
Koh Tang Vets,
You may have heard us referring to the imposter who tried to join our group named Charles Kaczmarczyk.
He was a very good con man who fooled many but met his demise when he tried to fool us.
Dateline has done a special that is worth watching. Here is the link to the show.
http://www.nbc.com/dateline/video/secrets-in-the-smoky-mountains/3116712
As a crazy chain of events, when we turned him in was the beginning of the end for him that ended up with VA Fraud, SS Disability Fraud, and ended up with murder convictions…
Happy Viewing!
Fred
Way to go Dan DeLeuw
After several years of trying, New member Dan Deleuw is pictured here delivering the plaque to the SS Jeremiah O'Brien to be displayed where the Captains desk of the SS Mayaguez is on display. Shown here with General Manager Matt Lasher who is a retired Marine himself. Thank You Dan!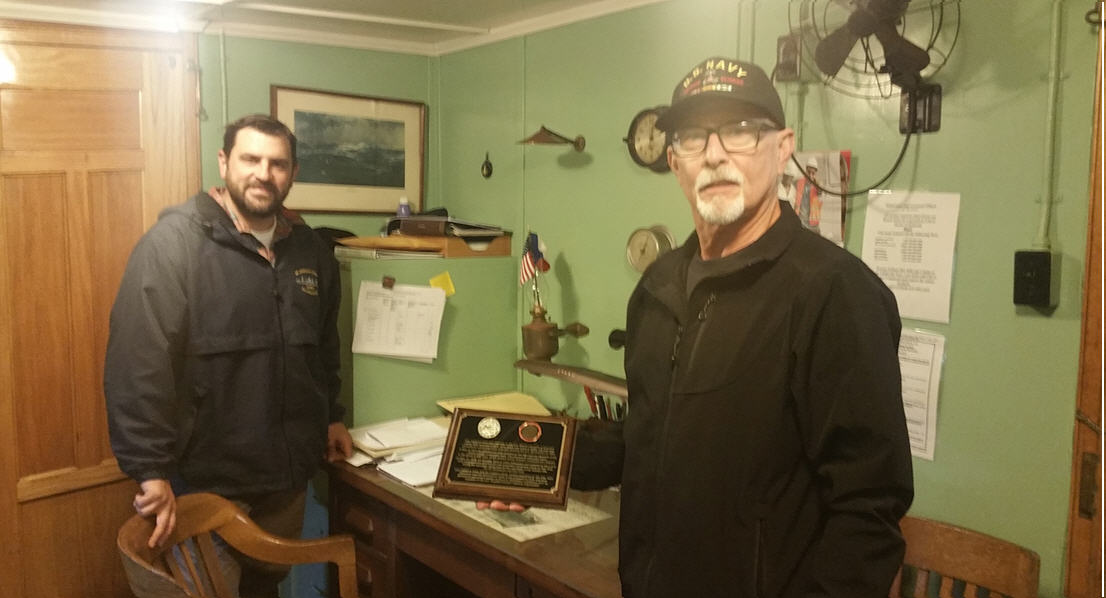 ________________________________________________________________________________________________
We are now a IRS approved 501(c)(19) Veterans Organization!
Koh Tang Mayaguez Veterans Org is now an 501 (c) (19) Veterans Organization.
This is the same designation as the Amvets, American Legion, and VFW.
Donations to this organization are tax deductable and the organization is tax exempt.
This is a process that the membership charged the board to accomplish that has taken several years. Thanks to VP Don Raatz for all his leg work in making this happen!
_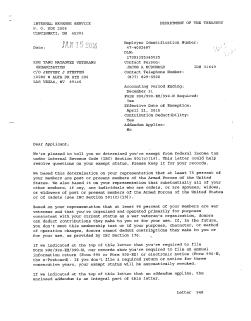 ________________________________________________________________________________________________
The new headstone has been placed at Arlington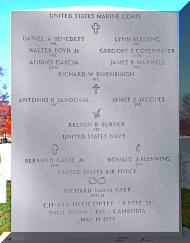 New Coin Available! USMC 2/9 coin at a special price. $20 includes postage!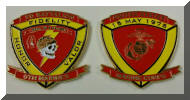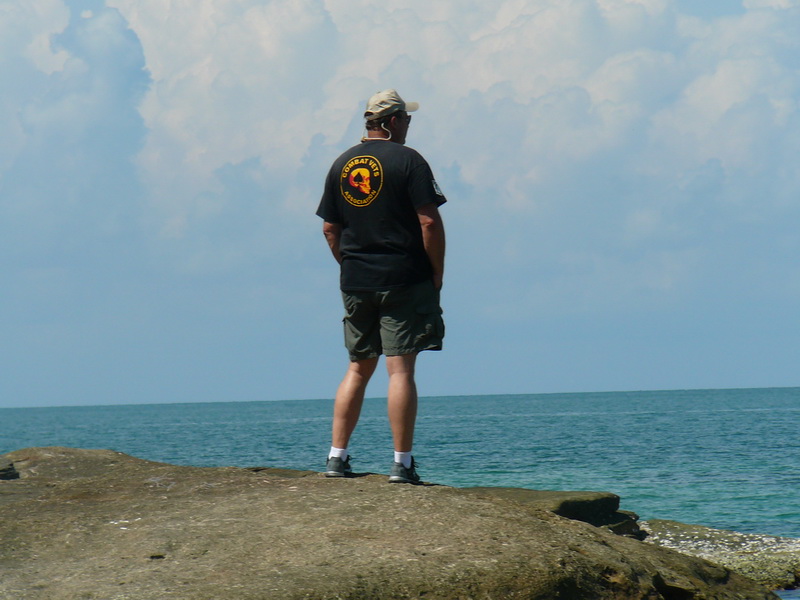 Return to Koh Tang 2015 trip pictures.
Stars & Stripes article about trip http://www.stripes.com/news/pacific/cousin-pursues-promise-to-bring-joseph-home-from-koh-tang-1.355195
http://www.stripes.com/news/pacific/cousin-pursues-promise-to-bring-joseph-home-from-koh-tang-1.355195
2014 Reunion Coin now available
______________________________________________________________________

Korean Defense Service Medal
We are eligible for this, follow the info below to apply.
As I interpret the criteria, members of 2/9 that deployed to Korea in the summer of 1975 are eligible. There is a self certification process with form PUSH FOR DOWNLOAD of self certification form. You may also need the Battalion Unit Diary
I (Fred) have pre filled out Col. Austin's information on the self certification form for you. You will need to finish filling out with your personal information.
I recommend the following for the form Unit Assigned/TAD (While in Korea): 2nd Battalion, 9th Marine Regiment, 3rd Marine Division Base Location/Name of Exercise/Operation in Korea: Embarked aboard U.S. Navy ships off shore in ROK; ashore in tent camp at Pohang for extended training with ROK Marines; reembarked and amphibious landing near Pohang as part of joint/combined exercise that was predecessor to the Team Spirit series; reembarked for liberty port visit in Inchon before return to Okinawa.
........Dates in Area of Eligibility : late June 1975 to Early September 1975
~~~~~~~~~~~~~~~~~~~~~~~~~~~~~~~~~~~~~~~~~~~~~~~~~~~~~~~~~~~~~~~~
The Mayaguez Fallen Heroes
Al Mahan has created the Mayaguez Fallen Heroes page
~~~~~~~~~~~~~~~~~~~~~~~~~~~~~~~~~~~~~~~~~~~~~~~~~~~~~~~~~~~~~~~~
Donate to the Ronnie Hughes fund that helps Mayaguez Vets in need.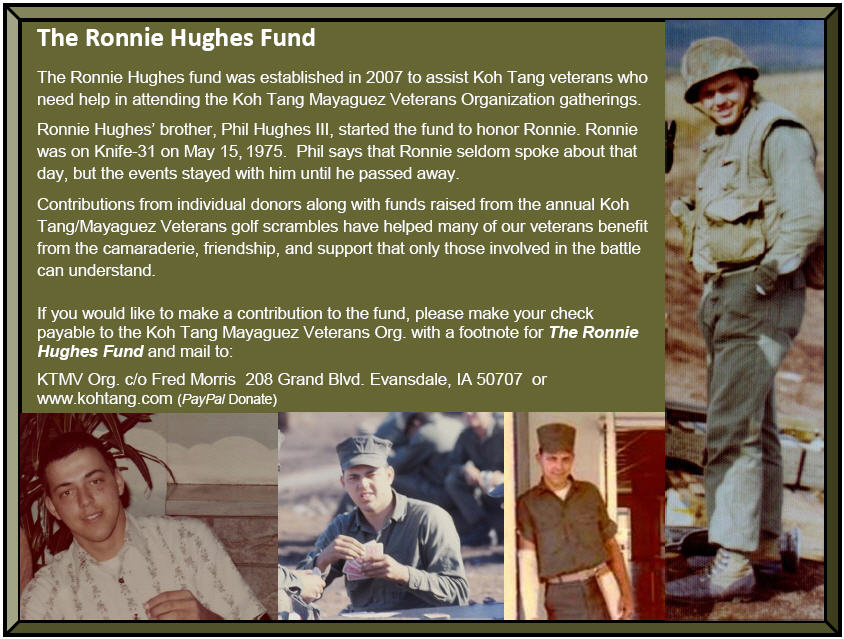 _____________________________________________________________________
Your help is needed in locating those involved with the mission. Call Al Bailey at (240) 876-9717 or if you are looking for someone yourself, feel free to call Al anytime; hopefully we will have the contact information.
_______________________________________________________________________


Ribbon and Medals
Check out the PDF to check out the ribbons we earned on the Island and on the float
You can use the PayPal Donate button to donate to this site,
OR to pay for your purchases at the Koh Tang Store! PB